Buy someone in pain this heart-shaped Sciatica Pain Relief Cushion was launched at the recent Back Pain Show in Birmingham with rave reviews.
"I am loving my cushions, thank you so much for putting me on to them – l think l will tell my Physio about them, spread the word!!!", Sonia 
This 20 second video explains all about the two cushions that are available. One for the car and one for your home. I have one upstairs in my office which has made a massive difference to the amount of time I can spend at my desk and I also have the smaller one for car journeys.
These cushions are a new way to relieve sciatica pain and this is what they say they will do –We want to empower you to improve your condition by helping you to make simple but effective day-to-day changes. We have drawn on all our skills to create The Sciatic Pain Relief Cushion and we hope we can share our knowledge to improve your quality of life and reduce reliance on pain relief medication. Their background includes almost 20 years of experience in health and wellbeing, that includes:
Designing pressure-area care products
Manufacture of products for hospital mattresses and cushions
Quality assurance in healthcare and engineering
Remedial massage therapy
Exercise and rehabilitation advice
The Rophi Cushion is a simple, effective and affordable way to relieve back pain.
The cushion, which sits in a purpose-made stocking, aligns the spine and pelvis whilst you sleep, relaxing your back muscles and allowing them to heal naturally.The cushion is made from a unique combination of polyester fibres, which means that unlike a regular cushion, it maintains its buoyancy and stays in position all night. The unique qualities of the cushion also mean that it is non-intrusive and inhibits sweat allowing a comfortable and pain-free night's sleep.
It has been medically tested and approved (read clinical trial data by clicking here) to alleviate back pain and is fully endorsed by BackCare – the National Organisation for Healthy Backs. There are no side effects, it can be prescribed and reduces the need for repeat visits to General Practitioners and other healthcare professionals. As well as its clear medical benefits, the Rophi Cushion is anti-bacterial, anti-dustmite, non-allergic, machine-washable and flame retardant.
The Rophi Cushion is very easy to use, you simply slide the stocking with the cushion on your leg, like a sock, and align the cushion between your knees and sleep in the semi-foetal position. Sleep on your side with the cushion between your knees and enjoy relief from back pain.
This is the most amazing heat pad I have ever used. It's light and portable so I can position it at my back and not as a cushion and does not need strapping in so it can be moved from one seat to another with ease. It has two heat temperatures with a remote in the middle of it but it gets so hot that I have only used the lowest temperature. It's easy to just pull out of the cigarette point when I don't want to use it and I can honestly say was worth every little penny it cost me.
It is so easy to move around that I would not hesitate to take it with me if I am in another car as I find car journey's the most painful of all transport. The price is also extremely reasonable at only £12.89 including delivery.
It is advertised as a Comfortable Quick Warming Heated Car Seat Cushion Pad Auto 12V Warmer Pad Hot Cover Automobile Heating Mat for Cold Weather and Winter Driving, from a company called  sweetlife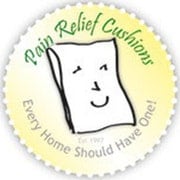 Pain Relief Cushions at their Etsy Shop – You should try this inexpensive wheat cushion if you are in pain. No drugs needed. Used Hot or Cold. At home or work for humans and even pets. Sale of selected wheat cushions. 33% off all colours of the Cool Computer Set. All can be with or without Lavender. Order now.
This vibrating massage pillow/cushion is from Sensonry Direct and is highly recommended by a Dr. Vanessa Hodgkinson, a pain management consultant at Spire Nottingham Hospital. You place it over the area of pain, and the vibrations really help especially if you are sitting in one position for a long time so would be great for the car. It costs £19.95