In one of my previous posts, I wrote about how we all make our New Year Resolutions but how many of us manage to process them? Well, an uncomplicated way to kick start a resolution to help with your health is to join in with the two Awareness Campaigns in January.
Well Being Info explains exactly what Dry January is all about and how your health will benefit from taking on this challenge. There are links to apps, websites and even charities that could benefit if you take on this challenge to help someone else.
Dry January is the UK's one-month alcohol-free challenge. Get your fun back. Get your energy back. Get your calm back. Get your YOU back.
Dry January means going alcohol-free for the month of January, and that can bring huge, obvious benefits – but the really good stuff is under the surface…
What you'll notice – see your skin get brighter, your wallet fuller, your days busier. Feel your step get bouncier, your mind calmer, your nights sleepier. Most people who do Dry January see a whole host of obvious benefits that make Dry January the perfect start to the New Year.
70% of people sleep better
86% of people save money
65% of people notice generally improved health
On the inside – a month alcohol-free has a lot of benefits: research published in 2018, conducted by the Royal Free Hospital and published in the British Medical Journal, found that a month off:
lowers blood pressure
reduces diabetes risk
lowers cholesterol
reduces levels of cancer-related proteins in the blood.
Long-term change – the real magic happens when Dry January is over. Dry January helps people to drink more healthily year-round. Research conducted by the University of Sussex has found that six months after Dry January more than 70% of people who take on the month with Alcohol Change UK's support are still drinking more healthily. On top of that, they have boosted levels of wellbeing, and much more besides.
How can it be that just a month off has a long-term impact? Being alcohol-free for 31 days shows us that we don't need alcohol to have fun, relax, or socialise. It helps us learn the skills we need to manage our drinking. That means that for the rest of the year we are better able to make decisions about when we drink and how much, so we can avoid slipping into drinking more than we really want to.
That's extra good news because alcohol is linked with more than 60 health conditions, including liver disease, high blood pressure, depression and seven types of cancer. In fact, alcohol is the biggest risk factor for death, ill-health and disability for people aged 15-49 in the UK. Cutting back on alcohol long-term reduces your risk of developing these conditions.
Download the free Try Day – It's your booze-free buddy for Dry January and beyond, helping you keep track of your units, calories and money saved and letting you earn badges along the way. Plus you can use it to track your drinking and set personalised goals all year round
Click here to download the app for Apple
Click here to download the app for Android
Sign up for free coaching emails – Alcohol Change UK offer daily tips, stories and much more to help you get the most out of your Dry January, You can sign up for these via the app, or sign up for just email here.
Dry January will make a difference to you as you save money, feel great and look fabulous – but it can make a difference to others too, as you can raise money for or donate to charity.
In the UK one person every hour dies as a result of alcohol. The harm doesn't end with the individual; each of us who drink too much is part of a family and a community who feel the effects too, whether through frequent use of emergency services, drink driving, violence or neglect.
At Alcohol Change UK, they work to end the harm caused by alcohol. They are not anti-alcohol; they are for alcohol change. With your help this Dry January, we can change and save lives.
There are two ways you can help….
Give What You Save – Lots of people who do Dry January find that they save money by not drinking, and you might decide to donate some of what you give. To give to Alcohol Change UK, click here.
Get Sponsored – Asking your friends and family to sponsor your Dry January is a great way to add some extra motivation, all while raising money for an amazing cause. To set up a sponsorship page, click here.
If you feel as though you need extra support around alcohol there are local services that can support you to reduce your alcohol intake. If you live in South Tyneside you can contact Change4Life South Tyneside to find out about getting support in your area, or if you live in Sunderland you can contact Live Life Well.
Another way to get yourself feeling better from the inside out is to have a go at Veganuary which was inspired and supported more than half a million people to try vegan during our 2021 campaign – with participants from over 200 countries and territories. Veganuary has worked with businesses to drive up vegan food provision in shops and restaurants, and have made veganism more visible and accessible through their work with national and international media.
Veganuary is a non-profit organisation that encourages people worldwide to try vegan for January and beyond. During the 2021 campaign, more than 500,000 people took our pledge to try a vegan diet, while more than 825 new vegan products and menu options were launched in our key campaign countries.
Throughout the year, Veganuary encourages and supports people and businesses alike to move to a plant-based diet as a way of protecting the environment, preventing animal suffering, and improving the health of millions of people.
The Mindful Chef explains how you can turn Veganaury during January.  If you have thought about adapting towards a plant-based diet but haven't fully committed yet, January is the perfect time to take up the challenge. Anyone can sign up for Veganuary, but if you are a little hesitant that you may miss your favourite meals, The Mindful Chef has the ultimate guide to help you navigate your way through a plant-based diet after the festive season.
Turning towards a vegan lifestyle is not a new concept, but was certainly given the spotlight when the Veganuary challenge became mainstream. Before this, there was (and still is) World Vegan Day which highlights the benefits of adapting to plant-based alternatives.
At Mindful Chef, their mission is to make healthy eating easier, without sacrificing on flavour. They make this possible for those who choose a vegan lifestyle through their vegan recipe boxes.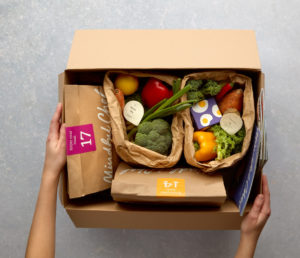 Choosing to accept the challenge of Veganuary can provide benefits both for your health and the environment. Studies have shown that eating vegan recipes can significantly improve your health by:
Providing a lower rate of developing diabetes
Reduces heart disease
Reduces the risk of obesity
Continuous studies have also shown that reducing your meat intake can reduce the risk of strokes, high blood pressure and high cholesterol.
So, with two very important awareness campaigns for January why not let them encourage you to look after your body from the inside and give yourself a better chance of a healthy 2022.