As many of my readers will know I wrote a review on the Active Posture tops a short while ago. If you missed my review click here to see what I wrote. Recently there has been more information about it due to everyone working from home. Dr Hilary on GMB talks abut the posture shirt and how it may help you with this video here. Posture Shirt is also offering a Posture Shirt TM 2.0 with a discount of 25% using the discount code of VE25.
Since my previous reviews, they have grown in strength and been on television programs and in the press. One such article was written by The Lady magazine who wrote this article on the tops.
According to the NHS eight in every ten people are affected by back pain.
It can be debilitating, depressing and downright miserable. Yet so many of us think very little about our posture through our home life or working day.
It's so easy to spend one's 9 to 5 day gradually slipping further beneath the desk, only to drag oneself up into the chair again every half an hour.
We naturally fall into whatever physical state is the least effort, but this isn't necessarily the position that is the most helpful or healthy for our bodies.
It's a job to remind ourselves how to sit when we are frantically trying to finish a deadline or rushing around after our children. Many of us ignore that niggling pain until it becomes a much bigger pain that defeats us for weeks or even months.
Traditional compression clothing works against the body by 'overtaking' or doing the muscles job for it, thus rendering no muscle memory performance.
One brand, ActivePosture, has come up with an innovative and clever solution to this ongoing problem.
By creating a shirt that encourages muscle memory rather than overtaking it, the patented technology behind this invention works by helping the body teach itself to properly support itself.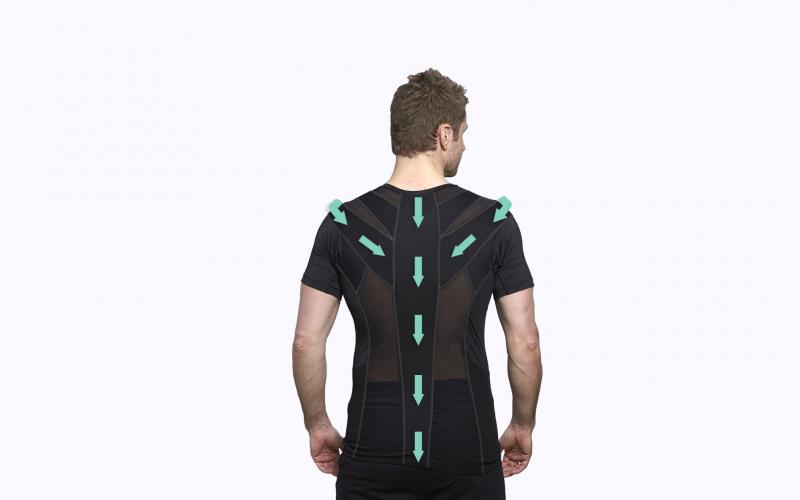 'Unlike traditional compression tops, ActivePosture clothing do not overtake muscle functionality or brace the user. Instead, they make the user aware of his or her posture. This process leads to the activation of the back muscles making these stronger. As it is the muscles doing the work, not the shirt/bra, over time the user will gain muscle memory and still feel the effect when the shirt/bra are not worn. This ensures that after around 6 months, the user will no longer be dependent on ActivePosture clothing, but will be able to feel and correct the posture without wearing them.'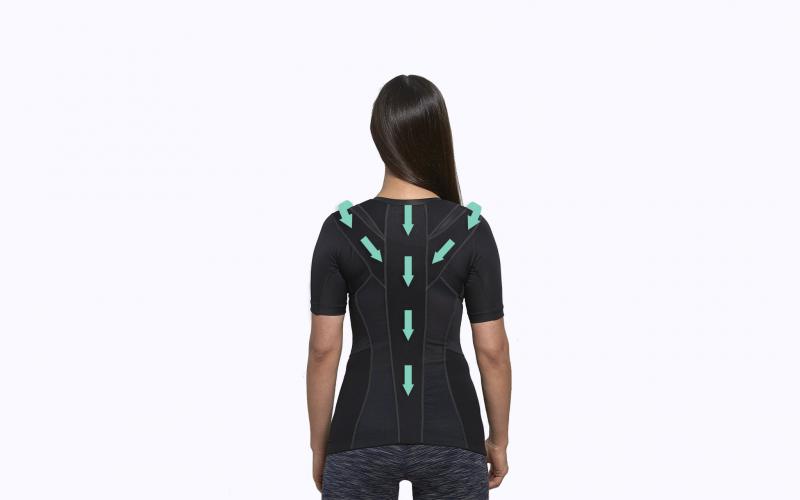 TOP TIPS FOR BETTER POSTURE:
When sitting at a desk for any length of time, get up and stretch from time to time (every 40 mins at least)
Do not sit with legs crossed and try to keep your back straight with shoulders back
Invest in a support cushion if you are suffering from lower back pain
Cast your mind over your body to 'check in' and see that you are not leaning or putting pressure on one are or another
Avoid lifting heavy objects and always bend your legs with a straight back if you do lift things
'The Posture Shirt® and InterActive Bra has helped over 500,000 people worldwide. We are proud to introduce these superior and innovative products to the UK customers. It offers an affordable and lasting solution to those struggling with poor posture and all discomfort that comes with it', says Daniel Shilemay, the CEO of ActivePosture.
The company are going from strength to strength, and I suddenly realised that both my own children could do with one to help with their pain. My daughter has recently had a baby and by week three of feeding her baby was already starting to get a lot of neck and shoulder pain so I suggested one of these tops. My son is in front of a computer to many hours to mention but is also a keen tennis player and recently has had back and neck pain. Initially, we thought it was something he had done in the gym but soon began to realise it definitely had something to do with his posture.
Watch this space for a review on the top for these type of postural pains in a few weeks time.